Fostering slow conversation
Keywords
built environment
,
environment and experience design
,
critical design
,
installation and pop-up
,
project management
The Acronym is a pop-up coffeeshop I founded at Olin College of Engineering to
encourage casual community-wide conversation and collaboration
. Two peers and I took on the challenge of designing and launching the project. At each opening, we transformed a mostly unused space on Olin's campus, the entryway in our main building, into our own coffeeshop by bringing out furniture from the Library and playing some mellow tunes. Acronym baristas served pour-over coffee and loose-leaf tea (to create an
intentionally slow experience
), as well as baked goods donated by members of the community, all free of charge. Acronym openings often played host to discussions and small events organized by other groups on Olin's campus.
The Acronym recieved funding from Olin's Clubs and Committees Organization. Our pool of baristas expanded from our original three to some twelve individuals, and we've even had a few of our faculty members guest barista for us!
Focusing on community
The Acronym was developed in response to complaints that the Olin community didn't have a place where faculty, staff, and students could all feel comfortable and engage in casual conversations. The Acronym was staffed by students (and the occasional faculty member!), and our offerings were sourced by students, faculty, and staff.
Slowing down
We served intentionally slow beverages—pour-over coffee and loose-leaf tea—to leave space for conversation between community members.
Leveraging existing resources
The Acronym gave an underutilized space on campus new purpose. We drew upon the coffee and tea expertise of community members to build our menu and practices, and the pottery skills of a professor to supply the pop-up with ceramic mugs.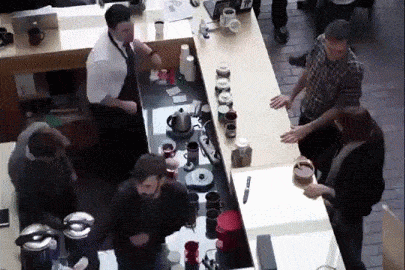 Coordinating a team effort
I organized a staff of 15-20 volunteer baristas each semester. My fellow leaders and I conducted trainings for new baristas, managed our supply inventory, coordinated sponsored events, and maintained relationships with Olin administration.